---
Gardenia Food — sterilized mushrooms
---
New! Detailed packaging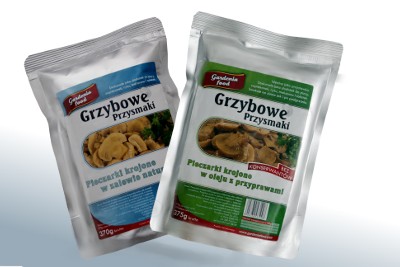 We are pleased to announce our new products: Sliced mushrooms in small, detailed bags.
Sliced mushrooms in natural brine,
Sliced mushrooms in oil with greens.
The package weight is c.a. 370 g. No preservatives, delicious up to 30 months.
Processing mushrooms is the main activity of the Gardenia Food partnership. Since the beginning we target on developing of innovative products which begin to gain on popularity. Such a products are sterilized mushrooms in oil and sterilized mushrooms in brine with greens.

We have high-tech, very efficient production line for processing unique and tasty sterilized food. Our sterilized semi-finished products are valuable for various practical advantages, like very long edibility and functional packaging.
Gardenia food goods are successful thanks to proven, traditional recipes and conscientiousness in each phase of the production process.
---
Polish market novelty!
---
Sterilized food proven on European market is gaining popularity also on a Polish market.
Our sterilized food has numerous features. The main are:
unique, palatable taste
traditional, proven recipes
sterility - no microorganisms
no chemicals (pressure sterilization)
no cooling needed
years of edibility
ready to consume
custom graphics
Who are we?
Gardenia Food is a Polish pioneer producer of sterilized mushrooms. We provide sterilized goods - half-products for gastronomy industry. Our target clients are companies cooperating with Horeca sector as well as direct Horeca sector clients (Hotels, Restaurants and Caterers).
Learn more about sterilized mushrooms in section titled Products